Replacement 3-Panel Patio Doors - San Diego
BM Windows is your San Diego source for top quality Three-Panel Sliding Patio Doors at reasonable prices. We don't use high-pressure sales tactics, and we don't outsource the installation. All that, plus our years of San Diego experience, makes BM Windows your trusted replacement vinyl window and door company in San Diego.
Description of Three-Panel Sliding Patio Doors
Three-panel sliding patio doors (sometimes called gliding doors) are composed of three glass door panels. One of the door panels will slide horizontally to open and close. Any one of the three panels—left, right or center—can be the operable panel. The sliding takes place on smooth rollers, which are hidden in channels. As sliding patio doors are quite common, and often in high traffic areas, they occasionally need replacement. We sell only the top quality vinyl replacement sliding doors for your San Diego home or business.
Common Applications
Three-panel sliding patio doors are commonly used in bedrooms and family living areas. They work equally well for ground floor rooms and multi-story homes. They are a great choice for enjoying the beautiful San Diego weather and sunshine. Sliding patio doors are also available
with built-in pet doors
.
Product Literature
View, download, or print product literature for more information.
MonteVerde Doors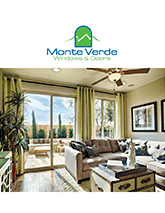 Additional Literature
AAMA Gold Label Certified
Anlin Series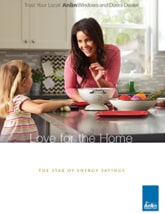 Additional Literature
Malibu Performance Data
AAMA Gold Label Certified
Masterblend Vinyl
Operation of Sliding Patio Doors
Sliding patio doors are very common, so most people already know how they operate. With three-panel sliding patio doors, one of the doors is mobile and simply slides horizontally over an adjacent stationary door. The operable panel can be the right, left or center panel. If you choose to have the center panel be your operable door, you can choose to have the panel slide open in either direction.
Move your cursor over the illustrations to see how sliding three-panel patio doors operate.
Left to Center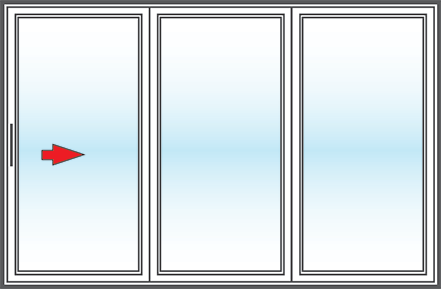 Right to Center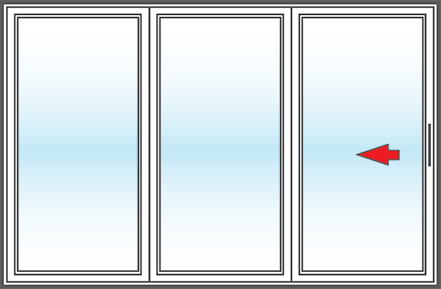 Center to Left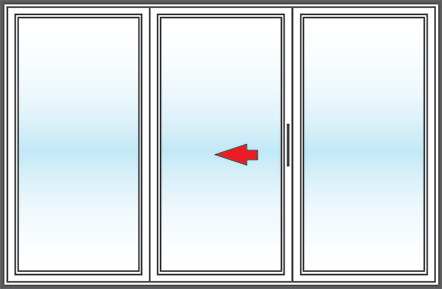 Center to Right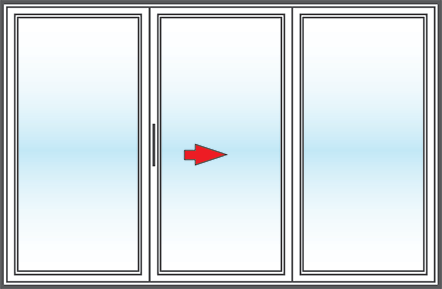 Benefits of Sliding Patio Doors
Common and easy to operate
Great for nearly any patio or deck
Slimmer frame than French doors
Maximizes natural light and view to the outdoors
Available in standard sizes or can be customized
Considerations for Three-Panel Sliding Patio Doors
Each door type has its benefits and things to consider. When considering three-panel sliding doors for your San Diego home or business, here are a few things to keep in mind...
Sliding patio doors do not hinge outward like French hinged patio doors. So although they don't interfere with furniture or decorations, they don't provide as wide an opening because two of the three panels are fixed in place.
As additional panels are added, the viewable area becomes larger. Three-panel doors offer a wider view than standard two-panel doors, but they also create a busier view when closed because they have an additional post.
When compared to four-panel doors, three-panel patio doors provide a less obstructed view, only two posts, but less opening space as it opens only 1/3 of the door. Conversely, four-panel doors provide a more obstructed view, with three posts, but a larger opening area (opens 1/2 of the door).
Product Lines for Three-Panel Sliding Patio Doors
We sell and install only the highest quality replacement windows and doors in San Diego. We offer vinyl replacement sliding patio doors from the following window and door companies:
BM Windows Guarantee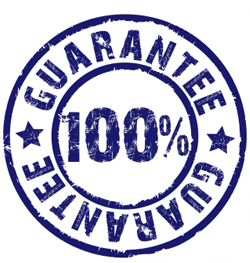 Know the difference before you buy. Like all of our
San Diego replacement windows and doors
,
three-panel sliding patio doors
come with the BM Windows guarantee - one of the best in the industry. Learn more about our
San Diego window and door guarantee
.