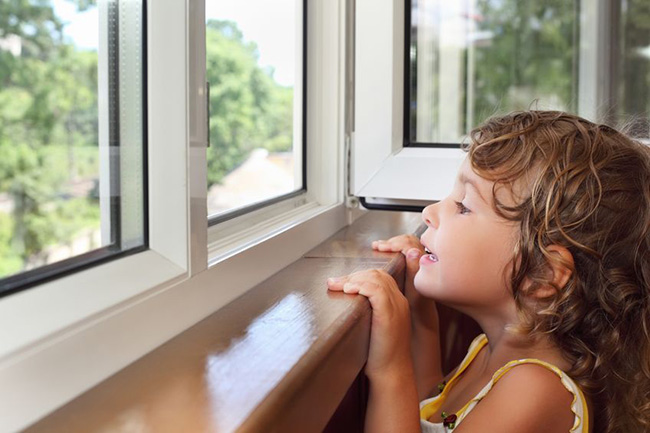 San Diego is famous for its gorgeous weather year-round. Many of our replacement window and door customers take advantage of the great weather by installing patio doors that open up their home and allow them to enjoy their outdoor area. But what if your home isn't conducive to patio doors? The layout of certain homes, or the way in which a homeowner has chosen to place their furniture doesn't always allow for a large portion of a wall to be used for sliding or French patio doors.
You can still take advantage of the San Diego weather and allow fresh air into your home by installing operable replacement windows in your home. Operable windows are basically any windows that can be opened (as opposed to fixed or picture windows that cannot be opened). However, there are several options within the category of operable windows that our customers can choose from.
Double Hung or Single Hung Replacement Windows
These popular styles of replacement windows have sashes that can be opened by sliding them up and down. In a double hung window, both the upper and lower sashes are operable, allowing you to choose which one to open. In a single hung replacement window, only the bottom sash is operable. In both styles, the operable sashes also tilt in for easy cleaning.
Single Slider or Double Slider Replacement Windows
Single and double sliders are similar to single and double hung windows, with the difference being that the sashes slide horizontally from side-to-side, as opposed to vertically.
Casement Windows
A casement window has a single glass panel with a hinge on one side, allowing it to open by swinging it outward. The replacement casement windows we sell include stainless steel hardware that is extremely durable, even in San Diego beach communities. Casement windows allow for excellent ventilation, as the entire window can be opened (as opposed to the windows above, where only half of the window can be opened at any one time).
Awning Windows
Awning windows are operable windows that open from a hinge at the top of the window unit, with the single panel swinging outward from the bottom. One of the advantages of awning windows over other operable windows, is that they can be opened even in a light rain, allowing ventilation into your home on almost any day of the year.
Combination Windows
Combination replacement windows are exactly what they sound like—window units that have a mixture of operable and fixed windows. By combining window types in a grouping, you can enjoy the advantage of a picture window, with its unobstructed views to the outdoors, with operable windows that allow for ventilation.
If you have questions about the styles of replacement windows that are right for your particular San Diego home, contact BM Windows. One of our helpful and knowledgeable team members would love to assist you in choosing the replacement windows that will make your home a more beautiful and comfortable place to live.