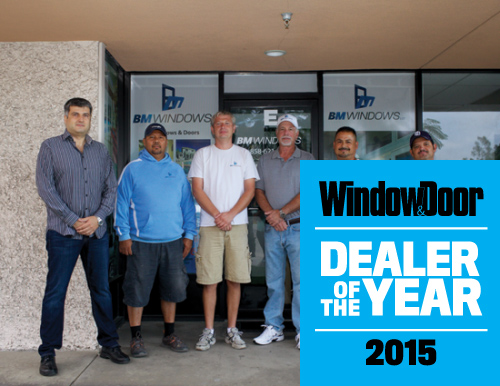 BM Windows is excited to announce that we have been named as one of Window & Door magazine's "2015 Dealers of the Year!" The list of recipients of this prestigious award was announced in the October/November 2015 issue of the magazine, as well as on their website, http://windowanddoor.com/. BM Windows is one of only eight replacement window and door companies in the United States to make the list, and the only San Diego area company.
Each of the eight Dealers of the Year were recognized for their excellence in a specific category within the replacement window and door industry. Our award was for "Excellence in Customer Service." Of all of the awards (which include things like "Excellence in Marketing" and "Best Showroom"), receiving the one for Excellence in Customer service is especially fulfilling, because we place such a high value on customer service in our company, and have since the day we opened our doors.
In addition to the award, BM Windows received a lengthy write-up in the October/November issue of Window & Door magazine. The write-up also appeared on their website, which you can read here. The article highlights why were chosen for the award out of thousands of replacement window and door dealers across the country, as well as a little about our history and business philosophy.
BM Windows owner Michal Bohm had this to say after receiving the award: "As a replacement window and door company in the competitive San Diego market, we have made it our goal to stand out from the competition by dedicating ourselves to customer satisfaction. So to be recognized by one of the premier publications in the industry in the Excellence in Customer Service category is very encouraging."
We'd like to sincerely thank Window & Door magazine for honoring us as one of their 2015 Dealers of the Year. If you are considering replacement windows and doors for your San Diego home, we hope you will give us an opportunity to show you why we are one of the best companies in the country when it comes to customer service. Contact us today to schedule your free, in-home consultation.